Year after year, Kaiser Permanente is recognized locally and nationally for our commitment to high-quality care. See what some of the country's leading health care authorities are saying about Kaiser Permanente.
TOP RATINGS FOR COMMERCIAL, MEDICARE, AND MEDICAID PLANS
Kaiser Permanente Hawaii health plans are top-rated in Hawaii according to the National Committee for Quality Assurance for 2020–2021 Health Plan Ratings; our commercial, Medicare and Medicaid plans earned a rating of 4.5 out of 5, making them the highest rated plans in the state. NCQA Health Plan Accreditation evaluates the quality of health care that health plans provide to their members.1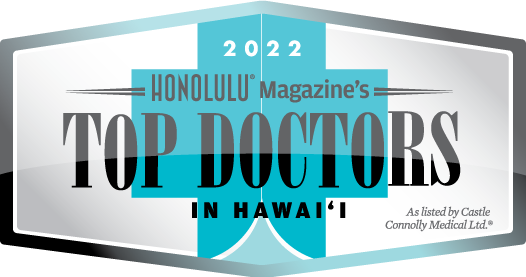 TOP-NOTCH DOCTORS
One hundred and forty one of our physicians were named Top Doctors by Castle Connolly in 2022.2 They're among more than 600 world-class Kaiser Permanente Hawaii physicians and providers, working together to help support your total health.
One of America's Best Hospitals
Kaiser Permanente Moanalua Medical Center has received the 2022 Women's Choice Award® as one of America's best hospitals for Cancer Care, Obstetrics, and Stroke Care. The award signifies that Moanalua Medical Center is one of the top health care providers in the country out of more than 4,700 hospitals offering these services. The award qualifications are based on preferences of the female patient using robust criteria that includes relevant clinical performance, patient satisfaction and appropriate accreditations.3
Moanalua Medical Center among Newsweek's "Best Maternity Hospitals 2022"
The award is presented by Newsweek and Statista Inc., the world-leading statistics portal and industry ranking provider. The hospitals on Newsweek's Best Maternity Hospitals list meet rigorous standards for excellence in maternity care — including low rates of C-section, episiotomy, and elective early delivery — and follow important protocols to protect moms and babies, among other measures.
MOST HIGHLY RECOMMENDED HEALTH PLAN
In 2021, for the 11th year in a row, Kaiser Permanente received NICE Satmetrix's highest customer loyalty ranking in the health plan category.4
THE HIGHEST-RATED MEDICARE HEALTH PLAN IN HAWAII FOR 2022
Every year, Medicare evaluates plans based on a 5-Star rating system. For the fifth year in a row (2018–2022), our Medicare health plan in Hawaii earned the highest possible rating of 5 out of 5 Stars — a reflection of high-quality care and outstanding customer service.
---
1Due to COVID-19, NCQA will not release 2020–2021 Health Plan Ratings for any product line. This rating is based upon 2019–2020 Health Plan Ratings NC-QA's Private Health Insurance Plan Ratings 2019-2020, National Committee for Quality Assurance, 2019: Kaiser Foundation Health Plan, Inc., of Hawaii — HMO (rated 4.5 out of 5).
2This list is excerpted from the Castle Connolly Top Doctors database. For more information, visit castleconnolly.com.
3The Women's Choice Award gives women a collective voice so that they can help each other identify trusted brands, products, and services. Best Hospitals awards are 100% objective, fact based awards based on what matters most to women when choosing a hospital. Women Certified Inc. does not in any way endorse any business, hospital, brand, product and/or service, but instead, reports the collective opinion and judgment of female consumers for brands and publicly available clinical data for hospitals. Visit www.womenschoiceaward.com to learn more.
4U.S. Consumer Net Promoter Benchmarks, NICE Satmetrix, 2011–2021. Net Promoter Score, Net Promoter, and NPS are trademarks of NICE Systems, Inc., Bain and Company, Inc., and Fred Reichheld.