How Climate Change Affects Health
Often framed as an environmental issue, climate change impacts human health, too.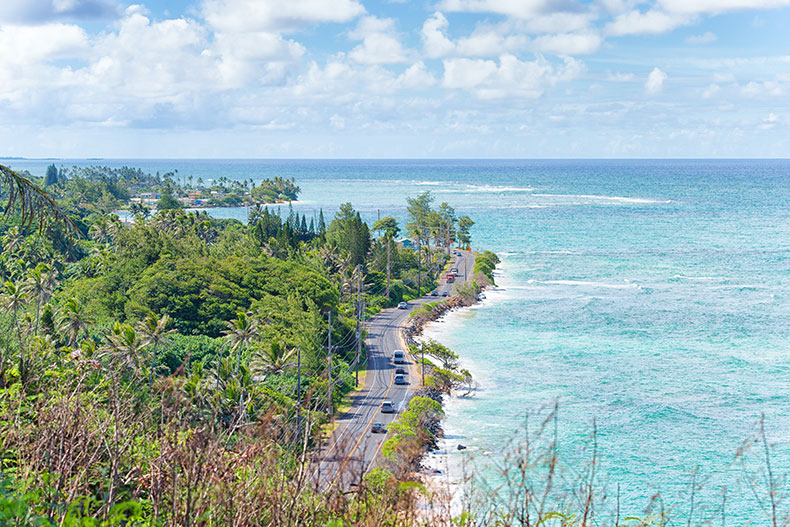 The relationship between climate and health is tightly wound. Rising temperatures can cause heat-related deaths. Increasing air pollution can worsen asthma symptoms and cardiovascular disease. Sea level rise can introduce contaminants to drinking water sources. 
Within the next 30 years, the World Health Organization expects approximately 250,000 additional deaths per year due to climate change.
"We know that for there to be a change, it really means that people need to recognize climate change as not only an environmental issue but also a human health issue that affects each and every one of us," says Seema Wadhwa, executive director of environmental stewardship for Kaiser Permanente.
The social determinants of health—nonmedical factors such as income, education, environment, and food insecurity—influence an individual's health and well-being. Climate change worsens these impacts, particularly among vulnerable populations. 
"Kaiser Permanente really understands the fact that what we do in medical care really accounts for just a small piece of a person's health care and wellness," says Dr. Marcus Iwane, chief of the West Oahu Medical Office in Kapolei.
He is seeing the effects of climate change, firsthand. "I think climate change is extremely important to build awareness for, especially in communities around Hawaii, particularly because climate change is here. It's happening now," Iwane says.
Communities and populations with significant socioeconomic barriers and underlying health conditions or disabilities will be hit hardest by climate change and climate change-related disasters.
"There are Pacific Islanders who already struggle with a lot of chronic disease burden, you know, higher rates of diabetes, obesity, cardiovascular disease," says Iwane. Climate-related events will exacerbate these issues.
"Heat and extreme heat-related weather events are the number one causes of climate-related deaths in the entire United States," says Iwane. Heat increases the risk for cardiovascular related deaths and injuries. It can lead to a sedentary lifestyle, which can lead to obesity. It can mean longer pollen seasons, which affects people with allergies and asthma. It can also cause droughts, which then affects water sources, crops, nutrition, and diet.
Sea level rise is another major climate change concern in Hawaii. Roughly 1,000 chemically contaminated sites around the Islands are at risk of submersion due to flooding or coastal erosion, according to the Hawaii Department of Health. The subsequent contamination to the ocean would put human health at even greater risk.
Kaiser Permanente is responding to climate change and its associated health risks by raising awareness, partnering with community organizations, and committing to environmental sustainability.
Tackling the issue
In 2020, Kaiser Permanente became the first U.S. health care organization to achieve carbon neutral status by buying enough clean energy and carbon offsets to remove more greenhouse gases from the atmosphere than they emit. That's equivalent to taking 175,000 cars off the road.
Kaiser Permanente's next goal is to reduce its greenhouse gas emissions by 50% by 2030 and 100% by 2050.
"We've taken a lot of action and have a lot of focus on reducing our impact, but we actually see our responsibility as going far beyond that," says Wadhwa. "That includes making investments upstream in the community that have a downstream impact through that lens of environmental stewardship and looking beyond our walls."
Just recently, Kaiser Permanente announced a partnership with BSR, a global nonprofit business network, to implement a joint climate action plan. "We actually are hosting a series of events with the World Economic Forum to help businesses better understand how climate is impacting health because, we in the health care sector, we see it firsthand."
Last year, Kaiser Permanente signed the Climate Coalition Pledge, which asks organizations to commit to act with speed, track carbon emissions annually, create a plan to reduce emissions, and share progress transparently.
"They're the first organization in the medical field that has signed," says Jeff Mikulina, director of the Climate Coalition. "They're really at the vanguard of climate action."
The Climate Coalition is an initiative started by the Hawaii Executive Collaborative—a group of business leaders united to take on some of Hawai'i's toughest issues, including climate change. It helps organizations by providing a road map for how to reduce their carbon footprints. The coalition also wants businesses to work collectively to impact systemic change through policy changes.
"What we're doing is trying to change the conversation and engage organizations in a new way," says Mikulina. In addition to Kaiser Permanente, he says 33 other organizations have signed on with the Climate Coalition Pledge so far, including Alexander & Baldwin, Blue Planet, Merriman's, Hawaii Gas, Hawaiian Airlines, and Hawaiian Telcom.
"We think that's really the powerful piece in this… that we get organizations to really think about the entire system and their role in it to help make a difference," says Mikulina. "As we see it, in 2023, this is how you behave as a good corporate citizen."