Fighting Hunger
How Hawaii nonprofits are bringing fresh food and produce to those in need.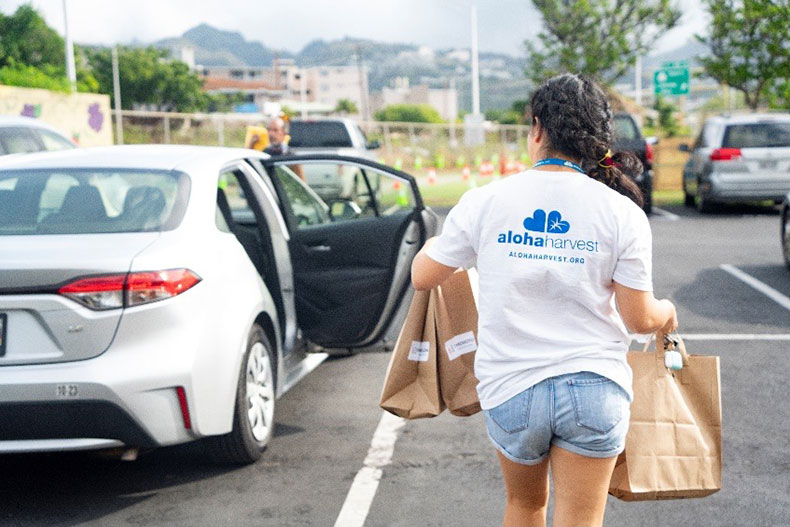 When you think about health, you might think of doctor visits and medicine. But what about access to healthy food? Or a safe place to live? A person's health is often determined by factors outside of the health care system. Evidence shows that these social determinants of health – including access to nutritious foods, housing stability, and economic opportunity – are important contributors to good health outcomes.
Kaiser Permanente has a longstanding commitment to making sure that people have opportunities to be healthy and thrive by investing in organizations that work to improve social determinants, such as distributing healthy, nutritious meals.
One continuing consequence of the pandemic has been a 50% increase in food insecurity in Hawaii since 2020, with kupuna and keiki struggling the most.
Nutritious food is a key to sustaining a healthy lifestyle, but some families and individuals must make hard choices between buying food or paying for a place to live. Too often that means they're going hungry. According to Feeding America, an astonishing 136,190 people go hungry every day in Hawaii, and over 50,000 of these are keiki.
Kaiser Permanente contributes to improving food security by investing in innovative programs by food banks and other community organizations to improve access to healthy food for the most vulnerable in our communities. Last year, Kaiser Permanente awarded $245,000 to organizations focused on increasing food security.
Improving the supply of fresh, local food not only helps solve hunger, but has additional benefits for Hawaii farmers, and can create opportunities to deliver other social services to people in need.
From Farm to Food Bank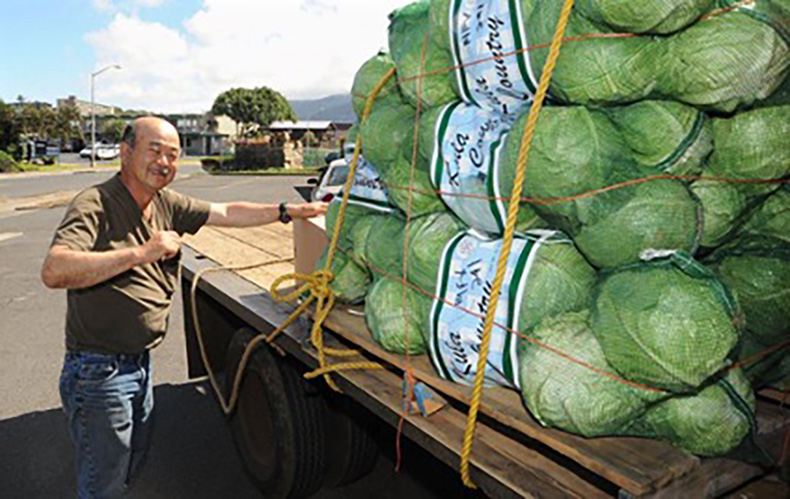 One way Hawaii's food banks are tackling food insecurity is by making sure no food is wasted. In 2017, the international nonprofit Natural Resources Defense Council found that 40% of all food in the U.S. never gets eaten and ends up in landfills.
At some farms, there are crops that never get harvested. When there are no buyers, it doesn't make economic sense for farmers to collect the food they can't sell, so they plow over the crops instead. To address this, Kaiser Permanente awarded grants to the Hawaii Foodbank and the Maui Food Bank to give them the means to purchase the fresh produce from those farms before they are lost.
"We know for many families who are food insecure, fresh produce can be the first thing that falls off their grocery list," says Amy Marvin, president and CEO of the Hawaii Foodbank. "Prices for food at home for groceries in Honolulu went up 25% in the last three years, which is incredible."
The Hawaii Foodbank serves Oahu and Kauai. Last year, it distributed 2 million pounds of fresh local produce through its Farm to Foodbank program. It works with over 40 local farmers and pays the costs associated with harvesting and packaging the rescued produce.
The food is then distributed through various food bank programs, including the new Kupuna Fresh project, which provides 8- to 10-pound bags of fresh produce to seniors already receiving food assistance through the Hawaii Foodbank's Senior Food Box Program.
"Kaiser Permanente has just been an incredible partner to support not just food and strengthening food security, but also nutrition security," says Marvin. "We're really working to ensure that the food that we distribute is not just calories but healthy calories."
Kaiser Permanente also supports the Maui Food Bank, which serves people on Maui, Molokai, and Lanai. The Maui organization has a similar program for the delivery of fresh fruits and vegetables called Fresh 4 All. Through that program, the Maui Food Bank purchases fresh produce from Maui farmers and distributes it to people in need.
"The folks that are getting this food typically are strapped on their budgets and don't typically have the available funding to buy locally fresh produce, so this helps them actually get a taste for fresh and local," says Rich Yust, executive director of Maui Food Bank.
Maui Food Bank serves about 12,000 people per month and around 80% of them are getting fresh produce. The Fresh 4 All program also supports local farmers by providing a consistent, direct source of revenue.
Food Plus More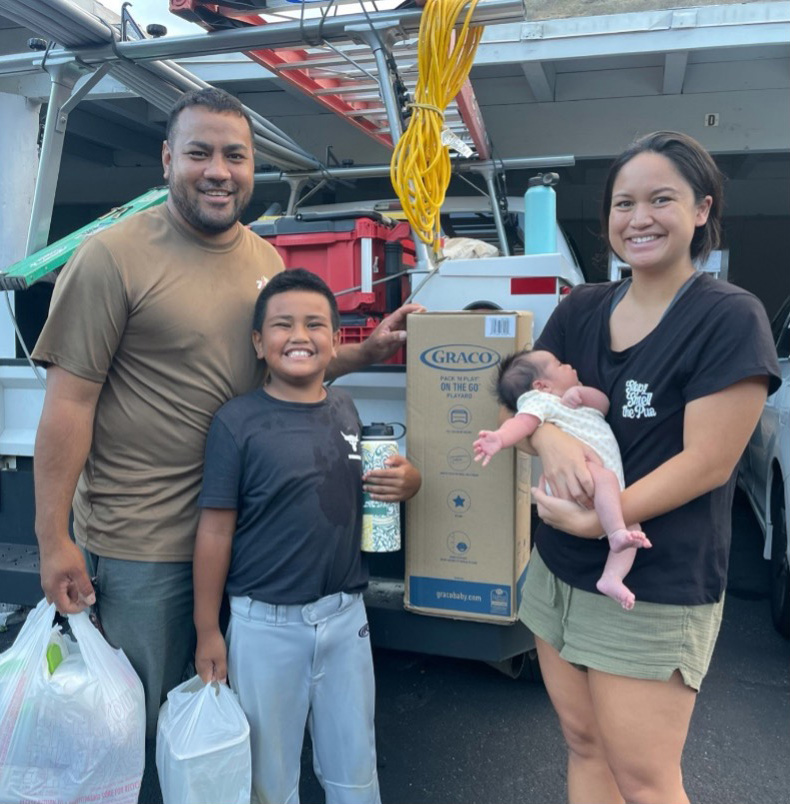 Some organizations also provide individuals with wraparound social services along with food to ensure they get all of the support they need.
Aloha Harvest's free weekly meal program, Meals With Aloha, for instance, partners with community health workers to ensure that kupuna have access to social services, if needed. These services may include help with digital literacy, caregiver education, SNAP, and veterans benefits.
Meals With Aloha emerged during the Covid-19 pandemic, when local hotels and restaurants had huge amounts of excess food. Today, the meals are a combination of purchased and rescued food.
"In 2019, the volume of food we rescued was at about 1.8 million [pounds] for the year. This past year, 2022, it was just a little over 3 million, so not quite double, but significantly more," says Phil Acosta, executive director of Aloha Harvest.
Acosta says Aloha Harvest is always looking for new places from which to rescue food. It's also looking for volunteers to take part in food harvests and farm days.
"We're very grateful for the partnership with Kaiser Permanente, and with all of our other partners who are helping to continue the Meals With Aloha program," says Acosta. "We encourage other folks to get involved… to reach out to us and see how we can collaborate."
Healthy Mothers Healthy Babies is another nonprofit integrating food distribution into its programs and services. "We catch the people who fall through the cracks," says Sunny Chen, executive director of Healthy Mothers Healthy Babies. "Food insecurity remains a challenge for a lot of our families and it's a way to get them into the door and then we provide them with other support services that might be needed."
Its Mana Ai program is a partnership with the nonprofit Lanakila Pacific, best known for its Meals on Wheels program. Instead of meals for kupuna, the program provides meals to new and expectant mothers and their families who are struggling with food insecurity. Clients can also be connected to other perinatal services, including birthing coaches and mental health professionals. And Mana Ai's Cribs with Kids program can provide clients with food and diapers.
"It's all interconnected, and it's all part of the huge systemic issues that we face when we're working towards health equity," says Chen. "Access to food is just so important. It really does open doors."